Remote Access♯
Almost all of our computing resources are available for off-campus use. Using Drexel's VPN service creates a secure, encrypted connection from your computer to Drexel's network, allowing you to connect up to computers, file shares, or other resources as if you were on campus.
Accessing Windows Computers via Remote Desktop Protocol (RDP)♯
Our supported and preferred method of remotely accessing a Windows computer is via Remote Desktop. To be able to connect remotely, your user account will need to be a member of the local administrators or the remote desktop users group on the remote PC. You will need to know either the name or IP address of the computer as well.
Windows♯
From a Windows PC, run the Remote Desktop Connection tool (either search the Start Menu or run mstsc.exe).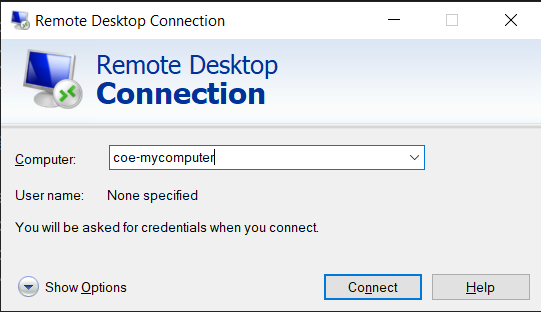 macOS♯
From a computer running macOS, you can download the Microsoft Remote Desktop tool from the Apple Store for free. You will need to know your Apple ID credentials in order to do so.
Prohibited Remote Access Tools (RATs)♯
While tools such as TeamViewer and LogMeIn provide convenient access to remote computers, they do so by bypassing the university's access policies. We will advise groups on removing unsupported RATs when we come across them.