Virtual Private Network (VPN)♯
A virtual private network, or VPN, is a method of creating an encrypted tunnel to transfer data between two devices or networks over the untrusted networks that make up the rest of the internet.
Drexel provides VPN connectivity via a server located at https://vpn.drexel.edu/. While users are able to log on directly for basic encrypted web access, we recommend that users download and install the Cisco VPN AnyConnect Client (click Start AnyConnect once logged in) to create a fully encrypted connection and provide access to other network resources, such as file servers and printers. While connected, all traffic (except for local network traffic) from or to a computer or device will be routed through Drexel's VPN gateway.
AnyConnect Client Installation♯
You can download the client via the Drexel software site using the following links:
Connecting using AnyConnect♯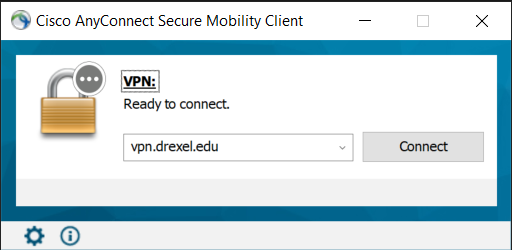 Once installed, run the AnyConnect software (listed as Cisco AnyConnect Secure Mobility Client on the Windows Start Menu under Cisco and on MacOS in Applications) and enter vpn.drexel.edu as the server name. When prompted, enter your Drexel username (e.g. abc123) and password. You will then be required to complete your multifactor authentication (if you have an authenticator app configured, you'll have to approve the login request; otherwise the phone number you registered with will be called/texted with a code).
You can verify that you are on the VPN by visiting a site such as What's My IP? and confirming that the address starts with 144.118.