Remote Support Utilities♯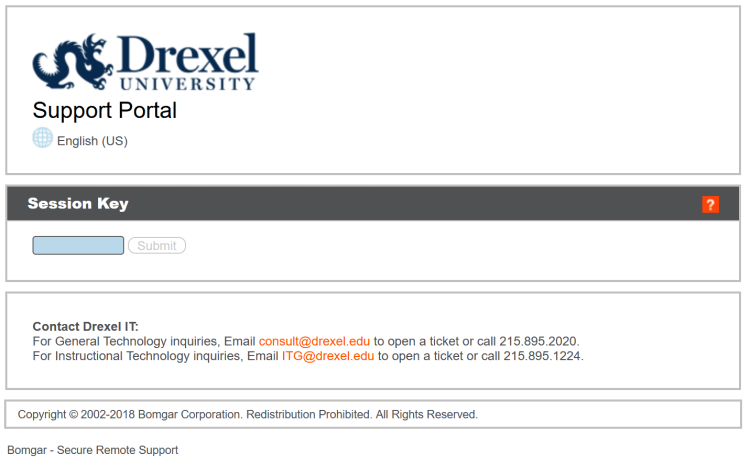 Drexel IT provides access to the widely-used Bomgar remote support utility, hosted at https://anchor.irt.drexel.edu.
In order to provide support, we may request that you visit the Bomgar site to run the support client. There are two methods we use:
Provide you with a session code by phone
Send you an email including a direct link to run the client with the session code included
Once connected, a member of our support staff will be able to view your screen and interact with your computer as if we were sitting in front of it. Once the support session has concluded, we will disconnect. You should then exit the Bomgar support client if it has not already quit -- it does not leave anything running in the background or permit ongoing access (unless you were to run the support client again).
Verify Support Requests♯
Unsolicited support calls
If you receive a call or email from someone claiming to be a member of the Drexel IT or Engineering CTS support staff asking you to allow them onto your computer remotely, please confirm their identity and ask to call them back at an official phone number (215.895.2020 for Drexel IT, 215.571.4444 for CTS) before continuing.
Common Support Scams♯
Support calls from 'Microsoft' or other companies
There are ongoing support scams continuing to cold call people, claiming to be from Microsoft, Comcast, Verizon, or other legitimate companies. They use a scary sounding script to inform you that your computer is compromised and that you may be in trouble if you don't let them on immediately to fix the issue. Under no circumstances should you provide access to your computer to these folks. Kindly inform them that you will note their concern and relay their message to your existing IT support.